Double Helix
Micheal Young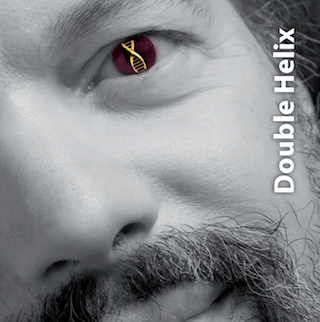 Double Helix
This album is the result of my desire to document the duo collaborations I have enjoyed performing over the past decade. Besides being satisfying musically, these songs have also helped forge bonds between myself and all these beautiful people. They are all jewels in my life.
Each song here (except the last) is performed by myself and one of twelve others. So you will enjoy sparse and intimate arrangements as we do our best to honor the songwriters and their songs.
While mulling over the nature of duo collaborations I was reminded of the basic structure of life, the double helix of the DNA molecule. The two performers comprise the twin spirals and the songs are the links that bind them. So really it is a three way collaboration between the two performers and the song writer.
Tracks
| Title | Author | Collaborator |
| --- | --- | --- |
| Blow 'em Away | Chuck Brodsky | Jane Blackler |
| Hold Up the Sky | Julie Miller | Frances Dickenson |
| As Beautiful as Now | Walt Wilkins | Emily Giles |
| Caledonia | Dougie MacLean | Jane Blackler |
| Take Me Back | Julie Miller | Martha Louise |
| In Spite of Ourselves | John Prine | Sue Hill |
| Prisoners Waltz | David Grisman | Dave Warren |
| Pontiac | Lyle Lovett | Emily Giles |
| Mood Indigo | Duke Elllington/Barney Bigard | Miles Shepheard |
| Little Darlin | Julie Miller | Frances Dickenson |
| Walking on the Moon | Tom Russel/Katy Moffat | Beverley Young |
| Cold Frosty Morning | Traditional | Bryan Christianson |
| Souvenirs | John Prine | Chris Priestly |
| The Wurlitzer Prize | Chips Moman/Bobby Emmons | Frances Dickenson |
| I Don't Love You Much | Guy Clark | Trude Mattingly |
| If I Needed You | Townes vanZandt | Beverley Young |
| Christmas in Paradise | Mary Gauthier | Sue Hill |
| Stand Up Seven | Walt Wilkins/Mark Prentice | Simen "Blue Keys" Taylor |
Credits
Recorded at Studio 27A, Devonport, Auckland
Recorded, edited and mixed by Micheal Young at Studio 27A
Mastered by Robbie Duncan at Braeburn Studio, Wellington
Photography by Paul Restall of Available Light
Graphic design by Dave Robertson
Copyright 2008, Wires & Wood Music
Made in New Zealand
---
Payment via PayPal
-
$NZ 25.00
Price includes Tax and Shipping
If you live in New Zealand and wish to make payment by bank transfer, please email Micheal for details